Growing up I was told I could be anything I wanted to be. There were no limitations restraining me just because I was a girl.
Then I joined the military.
When I started at the Air Force Academy, I found out that I couldn't be a fighter pilot simply because I had ovaries. That was enough to make me go for it.
Everyone laughed. "It's against the law," they said.
"We live in America," I responded. "Laws change."
The law did change. In 1994, 10 years after I first put on the uniform, I took off in an A-10 Warthog for the first time – later becoming the first female fighter pilot in U.S. history and the first to command a fighter squadron in combat.
But my fight against sexism was just beginning. From flying in the cockpit of an A-10 to chairing hearings on Capitol Hill, I've learned that each of us will face struggles as we pursue our goals. Sexism is real. Death threats are real. But my life shows that even more powerful than the struggles you face is how you choose to respond to them. The answer isn't to shy away from the challenge. It's to focus your energy on overthrowing the barriers and proving them wrong.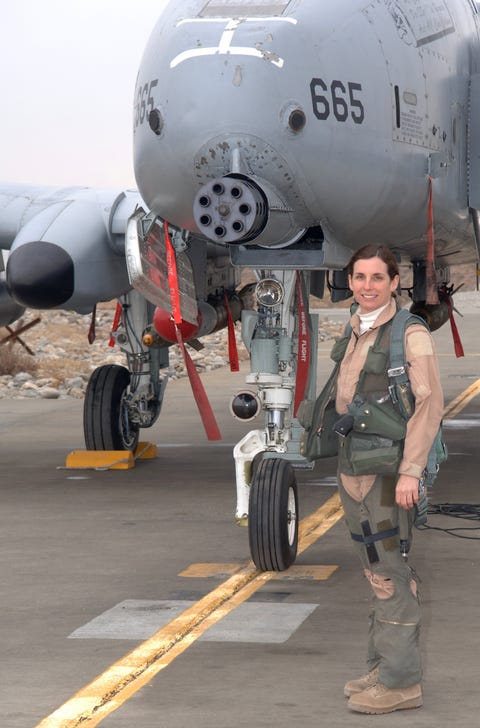 Courtesy of Rep. McSally's office.
Prior to the policy change, my own Air Force chief of staff testified before Congress that he was against women becoming combat pilots. When asked if he would select a less qualified man over a more qualified woman for these cockpits, the man responsible for ensuring we have the very best Air Force irrationally answered yes. Then, despite his outward compliance with the new policy, the four-star general's attitude gave license to others to be unaccepting toward our arrival.
Unfortunately, the culture of combat aviation squadrons was one that had a longstanding history of objectifying women— the language, the jokes, the visuals, the songs. There were sexually inappropriate statements, denigrating comments, disrespect. While I would use my quick tongue to hold my own, it wasn't my mission to overhaul the culture – it was my mission to serve my country as a fighter pilot and prove that the jet and gun don't care if you are a boy or a girl. So I refused to allow the environment or hostility to hinder my performance, and I focused on outrunning, outworking, outflying, and outshooting the naysayers. I beat them at their own game.

There were many days I wanted to quit and find a profession where I could be judged based solely on my performance and not my sex. But I knew that if I gave up I would not accomplish my dream and the Neanderthals would win. Through our performance, I and the other female fighter pilots proved that women aren't objects—we are worthy members of America's elite fighting force.
By the end of my 26-year military career, I had deployed six times and flew 325 combat hours in the A-10. Eventually I commanded an A-10 squadron of 27 aircraft currently worth over $18 million each and all the personnel to support our requirement to deploy anywhere in the world in 24 hours. I commanded this unit of all-male pilots and mixed-gender support personnel in combat in Afghanistan — the first woman in history to do that as well. I retired as a colonel.
But despite my performance, I still encountered sexism. Back when I was sent on my first deployment to the Middle East in 1995, I came across a demeaning U.S. military policy impacting our female troops serving in Saudi Arabia. When traveling off base on or off duty, they couldn't drive, had to sit in the back seat, and were directed to wear a full abaya and head scarf. After trying to resolve the problem internally, I eventually sued the Pentagon, then shepherded legislation through Congress to successfully overturn the policy — all while still serving in the military. The battle – from the time I first learned of the policy to the passage of the legislation in 2002 – took nearly eight years.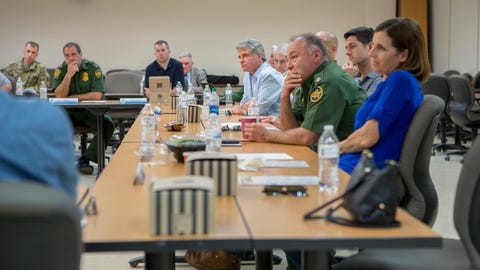 COURTESY OF REP. MCSALLY'S OFFICE.
Now, as the only Republican female veteran in the U.S. House of Representatives, I am uniquely positioned to advocate for women in Arizona's second congressional district as well as across the country.
This March, it was discovered that some service members in a Facebook group, Marines United, were sharing intimate photos and personal information of female Marines without their knowledge or consent. I responded by authoring the PRIVATE Act to give the military the tools to crack down on these perpetrators by defining when private photo sharing is a military criminal act—which is not clear in current law. This bill unanimously passed the House just 81 days after the scandal broke.
In July 2016 I launched a congressional working group of over two dozen lawmakers to expand opportunity for women in the workforce. I am holding hearings to take an in-depth look at the root causes for the challenges women face— whether that's lack of access to childcare, workplace flexibility, or simply engrained gender perceptions – and identify solutions to address them.
Spending years breaking barriers in the Air Force also prepared me to navigate the current vitriolic and violent political environment. In May 2017, I received death threats in three consecutive voicemail messages at my district office. Our sights are set on you, right between your f-ing eyes. Your days are numbered. Can't wait to pull f-ing the trigger, b-tch. Because I've faced potential death before in training and combat, I am not reckless but I do not respond to these threats by living in fear or hiding in a bunker. My job is to represent my constituents, and not even these threats will hinder me from fulfilling that responsibility.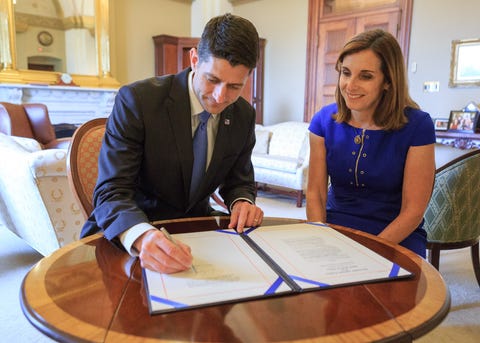 COURTESY OF REP. MCSALLY'S OFFICE
For young women who are considering running for office, I say, go for it. We need more women in elected office at all levels. Sure, you need to recognize the reality of the sexism that still exist in our culture, but it's even more important how you react to it. Do not to let it stop you. My experience taught me that it isn't enough to hope for change. You have to make change happen. It takes hard work, discipline, perseverance, and years of commitment. And sometimes you need to blow the door open, even as you experience adversity along the way.
People will doubt you, but don't allow others to impose limits on your potential. When others say you cannot do something, show them you can – do it even better.
Don't let the opposition harden you. Develop a thick skin, but don't lose your humanity. The challenges you face will help you to be an effective advocate for others, to develop patterns of overcoming obstacles, and to stay focused on your purpose.
The adversity I faced propelled me to continue to achieve my calling and make a difference with my life. Take it from me: not even the sky is your limit.